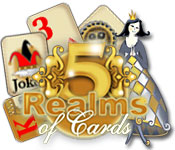 5 Realms of Cards is a new card game based on a fairy-tale.
It includes 70 levels where you help a young princess Jokerine to restore peace in her card kingdom & find out a secret.
In addition you have bonuses through all 5 card kindoms and 5 card-based mini-games.
Enjoy a beautiful card world in 5 Realms of Cards.
System requirements:


OS:Windows 2000/XP/VISTA


RAM:128mb


CPU:600MHz or faster Processor


DirectX:6.0


Hard Drive:26 MB


Bullet points:


70 levels to play.


Four original game modes.


5 mini-games.


Cool bonuses to use.


Play 5 Realms of Cards game right now:
5 Realms of Cards game is shareware, this means you can download and play 5 Realms of Cards game for free during 1 hour trial period. After this period you have to buy the game for $6.99 or uninstall it. It works with Windows 98/XP/Vista. The presented 5 Realms of Cards game does not contain any spyware and/or advertise modules, allowing you to install it without worries concerning valuable information loss. Downloading 5 Realms of Cards game will take a few minutes if you use fast Cable/ADSL connection. Download 5 Realms of Cards game for free, play and enjoy it!
5 Realms of Cards game Full Version Features:


Safe & secure purchase by credit cards, PayPal, and more


No shipping. No waiting. Instant download & activation of 5 Realms of Cards


Own 5 Realms of Cards game forever and play it as much as you want