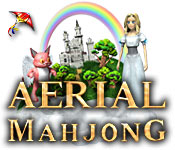 Take a challenge and make your way through all of Aerial Mahjong's fascinating levels!
Solve all the riddles to find the mighty sorcerer and get from him a magnificent gift!
Match tiles and solve puzzles in the cryptic land of Aerial.
Cute characters and troubling puzzles are the things that make this mahjong game fun and exciting.
But you should become a master of mahjong to claim your prize!
System requirements:


OS:Windows 2000/XP/Vista


RAM:128 MB


CPU:600 Mhz


Bullet points:


A lot of levels


Unique atmosphere


Play Aerial Mahjong game right now:
Aerial Mahjong game is shareware, this means you can download and play Aerial Mahjong game for free during 1 hour trial period. After this period you have to buy the game for $6.99 or uninstall it. It works with Windows 98/XP/Vista. The presented Aerial Mahjong game does not contain any spyware and/or advertise modules, allowing you to install it without worries concerning valuable information loss. Downloading Aerial Mahjong game will take a few minutes if you use fast Cable/ADSL connection. Download Aerial Mahjong game for free, play and enjoy it!
Aerial Mahjong game Full Version Features:


Safe & secure purchase by credit cards, PayPal, and more


No shipping. No waiting. Instant download & activation of Aerial Mahjong


Own Aerial Mahjong game forever and play it as much as you want